So, I'm going to jump a little out of order here, because I don't yet have pictures from All Bal weekend. All you lovely folks that I met at AllBal, send me thy pictures!
So, I went to All Balboa Weekend on June 14-17, and it ROCKED. However, I'm going to save the full write-up until I have visuals to go with it, so bear with me.
Last weekend was the Beginner Lindy workshop in Louisville sponsored by Lindy Lou. I had some lindy experience (at least in being shoved around the floor by a much-more-advanced lead who severely lacked patience, but that's another story) but had never taken any lindy classes. So, after being alerted to the workshop by Thor, a dancer from Louisville's scene, at AllBal, I decided it sounded like a good idea to spend three weekends in a row out of town at dance events. Man, I'm exhausted.
Don't get me wrong, LindyLou's workshop was a great experience. Not quite as 'omigodAWESOME' as AllBal, but it was one day long, and much smaller. I think I'm just burnt out on orgasmic-ly cool dance weekends for awhile. Irish Fest all by itself would have been nigh impossible to top, but AllBal managed it. After all that, I think the level of enthusiasm I can summon is slowly winding down.
Emily and Patrick were our instructors for the lindy workshop.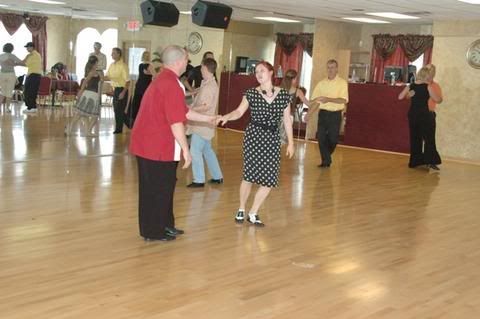 Patrick wore really bright socks.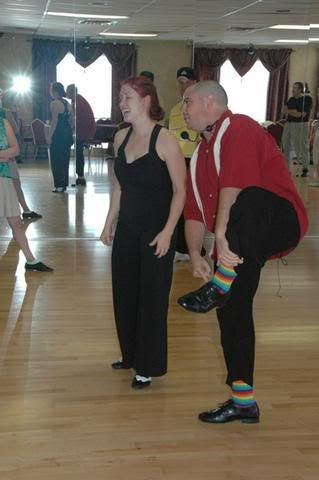 And Emily changed clothes a lot.
There was practicing……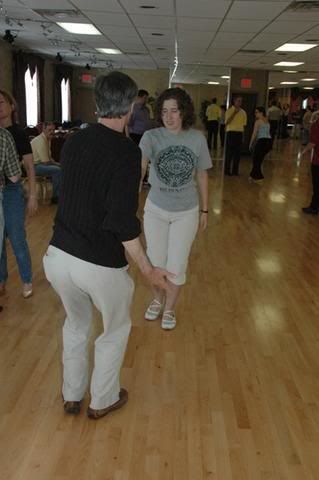 And hair flying……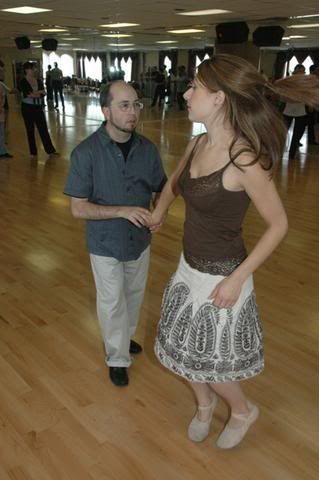 And after that we all got to dress up and dance the night away.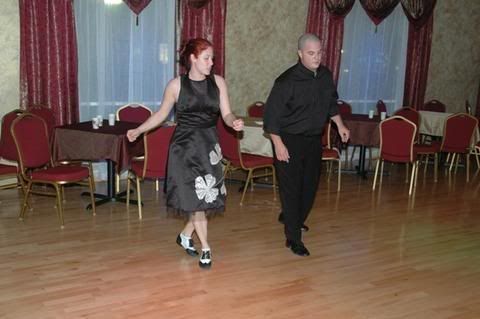 See what I mean about Emily changing clothes alot?
Here I am enjoying myself: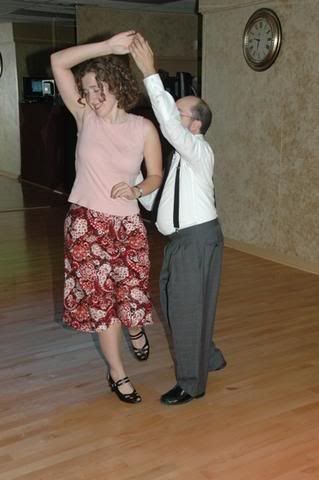 Check out those awesome shoes I bought at AllBal.

Life returns to it's regularly scheduled Abby for awhile. At least as normal as I get lately. I've totally become a social butterfly, I've met so many awesome new people, and I'm loving it. The vertically-challenged gentleman in the photo above is Chuck, who's a remarkably good lead, and has promised to invite me to the next blues dance in Louisville, which I'm looking forward to. I took Chihian, a Lexington area dancer, to last Wednesday's open mic blues night at Lynagh's, but it was jam-packed and we stayed for a few hours but didn't get to dance much.

Two weddings in the next two weeks. Fortunately, I get this coming weekend at home, but after that I'm flying to Virginia Beach for a family wedding.